I am still not over the John Edwards scandal. Even as the National Enquirer continues to pursue stories about his alleged love child and disqualify his half-hearted mea-culpa maneuvers, I can't understand how such a once-respected politician, the last of the so-called "good guys," could disrespect his ailing wife and family and throw away his life and career to pursue an extra-curricular love life. Didn't he learn anything from Bill Clinton, Elliot Spitzer and all the others? As far as I am concerned a fellow this dumb would never have made it as president.
But the Edwards story isn't over yet. The tabloids seem determined to bust open the whole truth about this politician's cover-up. It's worse than the others in some ways. First, he used his children and his wife's illness as campaign props. Remember him proudly stating his wife urged him to run and pursue his dreams despite her cancer battle? Remember on the campaign trail all the family posed photographs straight out of a Hallmark card? Add that to his run-around media interview where he just didn't seem sorry enough. He just doesn't get it. If he was going to come clean he needed to do it fully, not with half- statements and half-truths. I don't want to hear his gratuitous proclamations that he is willing to take a paternity test when his mistress has gone off into hiding and won't even offer the child's DNA sample to "clear the air." Wouldn't the first thing a mistress would want is to clear her and her child's name from continued (and often vicious) media scrutiny? Now consider the additional circumstances of having one Edwards' crony paying her thousands a month in living expenses and another who is married with children oddly claiming that he is the father. To me, it smacks of a diabolical cover-up.
Edwards' explanation that he made this error because he became a narcissist is absurd. The very definition of a narcissist is someone whose sense of self is so distorted they don't even recognize they are narcissistic. And then let's remember his proclamation that he "doesn't love" his mistress, and of course the most bruising admission of all—that his wife's cancer was in remission when he cheated. The more excuses he made the worse he became. Now he is a has-been. All the work and grooming done to cultivate an image of a hometown, choir boy, folksy, soft-spoken, elegant family man and noble politician is erased. The real John Edwards stood up and he is just too textbook prepared and overly scripted to ever appear credible again.
Stacy Schneider is the author of He Had It Coming: How to Outsmart Your Husband and Win Your Divorce.


The New York City Police Department and Secret Service forced the closure of a political art show by artist Yazmany Arboleda titled "The Assassination of Barack Obama / Hillary Clinton". While Police Commissioner Police Commissioner Raymond Kelly denied the artist was arrested or that the gallery show was forced to close, by detaining Mr. Arboleda for questioning on the basis he posed a threat that required investigation, the Secret Service effectively forced closure of the exhibition and thus political expression.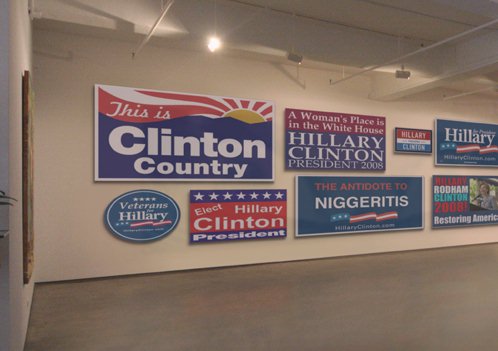 Were the police concerns valid you ask? Isn't there a high probability that someone who titles a public show the "Assassination of ___________ (insert public figure)" is a dangerous individual with intent to commit a violent act? Wouldn't the police be remiss if they didn't furtherinvestigate such an individual?
Here's the problem.
Individuals that pose actual risks to public figures are highly unlikely to advertise their intent so publicly. It is far more difficult for police and protective agencies to identify such individuals as what few telltale signs they present are far more ambiguous and require far more analysis to detect. Given the high volume of potential threats, federal agencies must be very efficient in their investigations and surveillance. They must be able to quickly determine which threats to invest resources in further investigating and which to dismiss as incredible.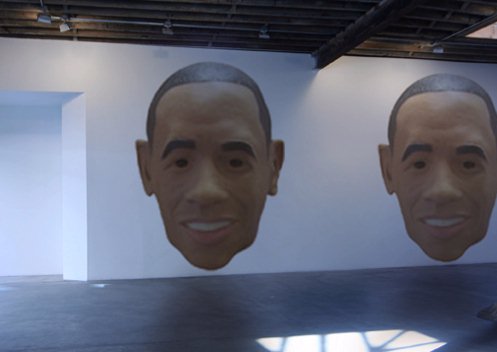 How efficient and effective were the Secret Service and NYC Police Department in this instance? Let's see… It would take the average casual observer less than 30 seconds to identify the images on display in the gallery as innocuous political art (judge for yourself below). The word 'Assassination' is clearly used artfully in the show's title, of course, to connote the assassination of each presidential candidate's character by the indecencies of the long political nominating process. The show is clearly about 'character assassination' not an incitement to murder (which, even if it were, is arguably within one's rights to promote).
« go back
0