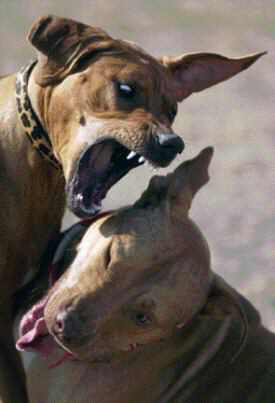 Two hundred eighty-three (283) NFL players have been arrested since 2000.  There have been over fifty (50) arrests of NFL players this year alone.  Although many were arrested for violent crimes, including domestic violence and gun charges, none had committed crimes involving violence towards animals.  And none were suspended for a full season until current commissioner Roger Goodell issued such a sentence to Titan's corner back Adam "Pacman" Jones earlier this year.
There are currently several dozen players who have been arrested practicing in NFL training camps.  There are no players who are practicing that dared to criminally hurt an animal.  That would clearly be crossing a line the league does not wish to tempt.
Today, the National Football League suspended convicted dog fighter Michael Vick indefinitely.  The door was left open to him playing again dependent on the resolution of any other charges that may be brought, Vick's conduct going forward, the specifics of the sentence imposed, and the extent to which the quarterback is cooperates with law enforcement and league investigators.
Vick will be sentenced in December. While the procesuter will recommend a sentence of 12 to 18 months, the judge can decide on anything from no jail term to a term as long as five years. Professional ahletes who pleaded guilty to crimes without having to serve a day in jail:
Danny Heatley, NHL
Vehicular homicide
Delivery 150 speeches
DeShwn Stevenson, NBA
Statutory rape
100 hours community service
Anthony Mason, NBA
Statutory rape
200 hours community service
Derrick Rodgers, NHL
Aggravated assault w/deadling weapon
100 hours community service
Lewis Billups, NHL
Drugging women & videotaping rape
3 years probation
Ron Artest, David Harrison, Anothy Johnson, Jermaine O'Neal, NBA
Fighint with fans
50-100 hours community service (50, 60, 100, 50)
Source: USLaw.com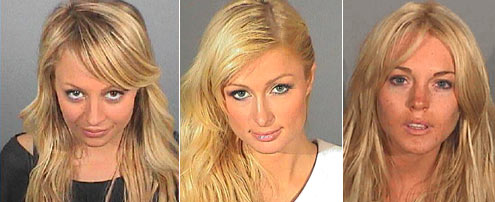 Little more than a month after Paris Hilton left jail, Nicole Richie avoids an overnight stay, and Linsey Lohan gets a day.  Here's how their crimes and sentences stack up:
Brat 
Sentence
Served
Crime
Judge
Attorney
Paris Hilton
23 days
45 days
Reckless Driving,
Probation Violoation
Michael T. Sauer
Howard Weitzman
Nicole Richie
96 hours
92 mins
Misdemeanor DUI
Steven K. Lubell
Shawn Chapman Holley
Lindsay Lohan
1 day
?
2x UI of cocaine,
2x DUI (> 0.08%),
1x reckless driving
Blair Berk
H. Chester Horn Jr.
Source:USLaw.com
 Details
Nicole Richie Crime Facts
Dec. 11, 2006, drove black Mercedes-Benz sport utility the wrong way on a Burbank freeway, CHiP found her parked in the car pool lane, she admitted having smoked marijuana and taken Vicodin.
Lindsay Lohan Sentence
In addition to jail time, 10 days of community service, 30 days drug treatment program, 18 month alcohol education program, 36 months probation. Two counts of being under the influence of cocaine, no contest to two counts of driving with a blood-alcohol level above 0.08% and one count of reckless driving. Two counts of driving under the influence dropped and not charged with felony drug charges because the amount of narcotics found in her pants was less than the standard 0.5 grams.
Lindsay Lohan Crime History
First arrested by Beverly Hills police over the Memorial Day weekend after losing control of her Mercedes SL65 on Sunset Boulevard, jumping curb, crashing into some shrubs, leaving scene to visit Century City Doctors Hospital, car removed to nearby condominium complex where a small amount of cocaine was found inside. Lohan was booked on suspicion of possessing a "usable amount" of cocaine and leaving the scene of an accident, a charge that was not to pursued because she sought medical help. July 24: arrested by Santa Monica police after the mother of one of her assistants reported that she was being chased by the actress in her SUV. Cocaine was found in Lohan's pocket when she was booked into jail.
Paris Hilton Crime
In September 2006, arrested and charged with driving under the influence of alcohol with a blood alcohol content of 0.08%, the minimum at which it is illegal to drive in California. Drivers license was suspended in November 2006 and in January 2007 she pled no contest to the alcohol-related reckless driving charge, receiving punishment of 36 months' probation and fines of $1,500.
On January 15, 2007, pulled over for driving with a suspended license and signed a document acknowledging that she was not permitted to drive. On February 27, 2007 Hilton was caught driving 70 MPH in a 35 MPH zone with a suspended license and without headlights in the dark. Charged for these actions along with the failure to enroll in a court-ordered alcohol education with violating terms of her probation. On May 4, 2007 sentenced to 45 days in jail for violating probation.
204f
Recently, a Chinese government minister in charge of dog food export safety and a manufacturer of lead-tained Sesame Street toys were reported to have killed themselves.   Such acts of harikari– suicide to atone for professional shame– has traditionally been associated with Japanese, not Chinese culture.  Is it possible these deaths, reported as 'suicides', were actually state-sanctioned murders intended to create both a detternt effect among Chinese manufacturers who might otherwise condier cutting corners and a message to Western buyers that Chinese manufacturers are so concerned about the safety of their products that they would routinely kill themselves if they were ever to be responsible for the death or illness of an American consumer?
Something to think about?
Now that a federal judge has granted permission and a group of Brandeis University graduates have taken the project upon themselves, it's easy to see who is going to join Senator David Ritter (R, Louisiana) on DC Madame Deborah Palfrey's client list.  The young computer science graduates have created a search engine by processing the image files released by Palfrey with Optical Character Recognition (OCR) software.  Search here.

Los Angeles County Sheriff Lee Baca wants to make it more difficult for the press to report on the celebrities in his custody by making it a crime for law enforcement or court employees to profit by releasing confidential information gathered in criminal investigations or unauthorized photographs of people in custody.  While no photos of star inmate Paris Hilton have surfaced, a deputy's account of Mel Gibson's profanity-laden tirade as he was being arrested in Malibu was leaked.  And recently a cell phone video of the rapper known as The Game showing him in an unflattering light as he was held in a jail cell after being arrested appeared on blog TMZ without having gone though official channels or the procedures set forth in the Public Records Act.
More.
keep looking »
0