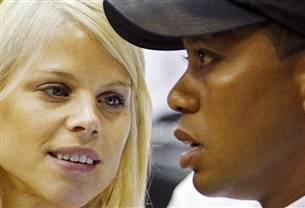 Tiger Woods' press conference was a bust. Now it's time for him to bust out his wallet and make things better for his suffering wife, Elin. Nothing helps a humiliated wife like a nice, fat check from a billionaire cheating husband.
This is the perfect time for Elin to negotiate a new prenup with Tiger, while he's got his tail between his legs. He's under pressure to save the marriage and she's got all the leverage.  After Tiger's robotic media mea culpa, it's obvious he'll say and do anything to protect his brand… and that means protecting his marriage. How Elin publicly treats Tiger will have a big effect on how the public treats Tiger. He needs her more than she needs him… and she should get him to pay for the privilege of staying married.
 
Since Elin's payday doesn't kick in until the marriage survives 10 years (according to reports about their existing prenup, she isn't entitled to the millions unless the marriage lasts a decade), I have adapted some steps out of my book, He Had It Coming: How to Outsmart Your Husband and Win Your Divorce, to remove some of the sting from staying in this union:
Have Tiger tear up the prenuptial agreement.
Negotiate a new prenup, called a post-nuptial agreement, which is a binding contract entered into while the couple is married.
Get paid for all the time she already served in the marriage. I call this a "Time Served" Clause. A $15 million a year lump sum payment per year of married life completed would be a good start for the years under her belt—years she had to put up with Tiger.
Negotiate a "Misstress Clause": If Tiger cheats, he writes his wife a multi-million dollar check.

Insert a new clause providing a payment to Elin for every year she stays in the marriage going forward. This way, when he gets paid by his sponsors as a result of her forbearance in continuing the marriage, she will participate directly in the benefits Tiger's business as a sponsored athletes enjoys therefrom.
Whatever reason Elin may choose for staying in the marriage, that's her prerogative. If she stays for the money at this point, she's smart, because she has two young children to protect. And besides, no one says it has to be forever. Tiger certainly didn't behave as if he intended the marriage to last. My advice to Elin is this: Start treating the marriage the same way Tiger did– as a business arrangement.
0