Michael Vick receives 23 month sentence, on the higher end of the range, owing to his less than fully candid cooperation with investigators and, according to some observers, his court room swagger.
Broncos punter Todd Sauerbrun– who was suspended for a month last season for using banned substance– now faces an assault charge for assaulting a cab driver outside night club.
Buccaneer Jerramy Stevens– previously convicted in September of driving under the influence– was suspended for one game for violating the N.F.L.'s substance abuse policy.Green Bay Packer linebacker Nick Barnett pleaded not guilty two charges of disorderly conduct stemming from a confrontation with a women outside a nightclub.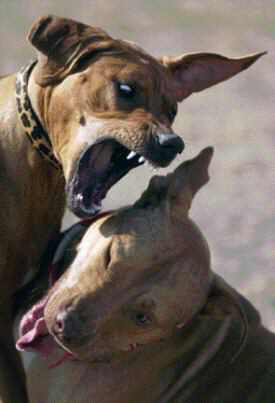 Two hundred eighty-three (283) NFL players have been arrested since 2000.  There have been over fifty (50) arrests of NFL players this year alone.  Although many were arrested for violent crimes, including domestic violence and gun charges, none had committed crimes involving violence towards animals.  And none were suspended for a full season until current commissioner Roger Goodell issued such a sentence to Titan's corner back Adam "Pacman" Jones earlier this year.
There are currently several dozen players who have been arrested practicing in NFL training camps.  There are no players who are practicing that dared to criminally hurt an animal.  That would clearly be crossing a line the league does not wish to tempt.
Today, the National Football League suspended convicted dog fighter Michael Vick indefinitely.  The door was left open to him playing again dependent on the resolution of any other charges that may be brought, Vick's conduct going forward, the specifics of the sentence imposed, and the extent to which the quarterback is cooperates with law enforcement and league investigators.
Vick will be sentenced in December. While the procesuter will recommend a sentence of 12 to 18 months, the judge can decide on anything from no jail term to a term as long as five years. Professional ahletes who pleaded guilty to crimes without having to serve a day in jail:
Danny Heatley, NHL
Vehicular homicide
Delivery 150 speeches
DeShwn Stevenson, NBA
Statutory rape
100 hours community service
Anthony Mason, NBA
Statutory rape
200 hours community service
Derrick Rodgers, NHL
Aggravated assault w/deadling weapon
100 hours community service
Lewis Billups, NHL
Drugging women & videotaping rape
3 years probation
Ron Artest, David Harrison, Anothy Johnson, Jermaine O'Neal, NBA
Fighint with fans
50-100 hours community service (50, 60, 100, 50)
Source: USLaw.com
0