A list of 10,000 Clients of hedge fund schemer Bernie Madoff was recently released, revealing nearly 10,000 different account names, the following pop culture figures among them:
Steven Spielberg and Jeffrey Katzenberg of DreamWorks along with their Wunderkinder Foundation and their financial adviser Gerald Breslauer.
Eric Roth, who wrote the screenplay for "Forrest Gump" and "The Curious Case of Benjamin Button," lost all of his retirement money.
Mort Zuckerman, owner of the New York Daily News and U.S. News & World Report, had one of his charities fully invested in a fund that was fully invested in Madoff's schemes.
Palm Beach Country Club along with Country Club social networks in Dallas, Chicago, Boston and Minneapolis.
Kevin Bacon and his actress wife Kyra Sedgwick, who may have lost millions.
Former Philadelphia Eagles owner Norman Braman.
Elie Wiesel's Foundation For Humanity. Lost $37 million.
Wilpon Family and Saul Katz, owners of the New York Mets .
The late musical philanthropist Avery Fisher and former television host and 1971 Miss America Phyllis George.
New Jersey Senator Frank Lautenberg.
Actpr John Malkovich.
Artist and author Alexandra Penney lost bulk of her life savings.
Arpad Busson, Uma Thurman's billionaire fiance.
Hall of Fame pitcher Sandy Koufax.
Talk show host Larry King.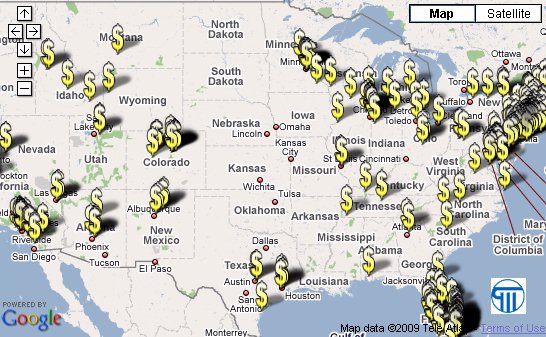 A complete searchable database along with addresses and graphical mapping has been available by USLaw.com at Madoff Database.
0