A week before the the Center for Constitutional Right's class action suit challenging the legality of the New York City Police Department's stop-and-frisk policy is scheduled to begin (Floyd v. City of New York), Brooklyn resident Kaylan Pedine filed the latest suit today against the City for civil rights violations.
A disorderly conduct charge against Ms. Pedine upon her arrested on the evening of July 6, 2012 outside of the Mercury Bar on the east side of Manhattan traffic were dismissed by a judge for facial insufficiency. According to her attorney Mark. C Taylor Ms Pedine believes her arrest was the result of a private conversation over heard by passing NYPD Officer Craig Campion in which she stated to a friend her desire for the police force to stop it's controversial stop and frisk policy.
Ms. Pedine believes that New York City's stop and frisk policy "is horrendously unconstitutional to communities of color" and further believes that the her lawsuit will increase awareness and inspire "authentic conversations about solutions and [policy change]."
Her attorney Mark C. Taylor stated "The right to criticize the government is a cornerstone of our civil liberties, as is our protection against unreasonable searches. Under Police Commissioner Ray Kelly both of these rights have been ignored. The NYPD's intolerance to criticism and disrespect to civil liberties is a natural consequence of the stop-and-frisk policy which has made a mockery of those rights."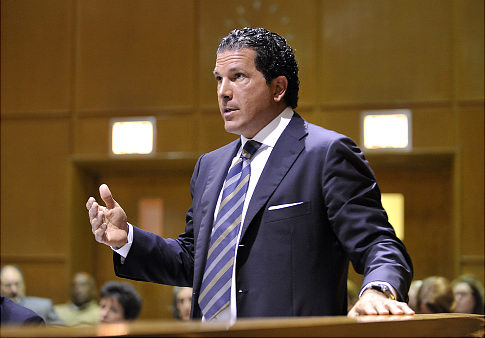 Who did Joran van der Sloot once publicly declare his affection for? In a 2007 GQ interview, van der Sloot sang hotshot lawyer Joseph Tacopina's praises. "I love the guy," he said. "If I do get any money from any of these civil suits, I plan to give it all to Joe."
At the time, Tacopina was the media darling of criminal defense attorneys and was presumably threatening to pursue false prosecution or libel damages on behalf of Natalie Holloway's suspected murderer. As he said of Van der Sloot, "Three countries have investigated this disappearance and three countries have not found one shred of evidence that points to Joran. This kid is a victim too. He is an 18-year-old kid and his life has basically been ruined."
Given the mounting evidence pointing to the the murder of 21-year-old Stephany Flores in Peru, van der Sloot will not likely escape justice in his fourth country. Van der Sloot's first Peruvian lawyer Maximo Altez will no longer have anything to do with him, quitting the case after receiving death threats. Where does this leave Tacopina back in New York?
While Van der Sloot was on the run from Peru, Tacopina stated that he had not heard from his client and seemed to support his innocence in the following statement made on June 2, "Joran van der Sloot has been falsely accused of murder once before. The fact is he wears a bull's-eye on his back now and he is a quote-unquote usual suspect when it comes to allegations of foul play." Other than this statement, Tacopina has been laying low. Out of the media spotlight and probably wondering if those potential civil suits were as a good gamble as Joran's poker playing in Peru…
Harvard Law School Student and prospective future clerk for Ninth Circuit Alex Kozinski Stephanie Grace has sparked a controversy by penning an email to fellow students about "the possibility that African Americans are, on average, genetically predisposed to be less intelligent".
… I just hate leaving things where I feel I misstated my position.I absolutely do not rule out the possibility that African Americans are, on average, genetically predisposed to be less intelligent. I could also obviously be convinced that by controlling for the right variables, we would see that they are, in fact, as intelligent as white people under the same circumstances. The fact is, some things are genetic. African Americans tend to have darker skin. Irish people are more likely to have red hair. (Now on to the more controversial:) Women tend to perform less well in math due at least in part to prenatal levels of testosterone, which also account for variations in mathematics performance within genders. This suggests to me that some part of intelligence is genetic, just like identical twins raised apart tend to have very similar IQs and just like I think my babies will be geniuses and beautiful individuals whether I raise them or give them to an orphanage in Nigeria. I don't think it is that controversial of an opinion to say I think it is at least possible that African Americans are less intelligent on a genetic level, and I didn't mean to shy away from that opinion at dinner.
Reacting to rampant cyber bullying at this school and based on a belief that adolescents lack the maturity to make proper use of social networking tools, Bergen County, New Jersey middle school principal circulated a letter to the parents of the 700 students at Benjamin Franklin Middle school requesting that they prohibit their children from using facebook, formspring, and every other online social network which provides opportunity for students to hurl insults and exchange graphic images.  The principal also recommends specific steps parents can take to closely monitor all web and cellphone use to insure compliance with this ban and avoid being deceived by their children.
The text of the letter shared with parents:
Dear BF Community,

In 2002 when I arrived in Ridgewood Facebook did not exist, Youtube did not exist, and MySpace was barely in existence. Formspring (one of the newest internet scourges, a site meant simply to post cruel things about people anonymously) wasn't even in someone's mind.

In 2010 social networking sites have now become commonplace, and technology use by students is beyond prevalent.

It is time for every single member of the BF Community to take a stand!

There is absolutely no reason for any middle school student to be a part of a social networking site!

Let me repeat that - there is absolutely, positively no reason for any middle school student to be a part of a social networking site! None.

5 of the last 8 parents who we have informed that their child was posting inappropriate things on Facebook said their child did not have an account. Every single one of the students had an account.

3 Students yesterday told a guidance counselor that their parents told them to close their accounts when the parents learned they had an account. All three students told their parents it was closed. All three students still had an account after telling their parents it was closed.

Most students are part of more than one social networking site.

Please do the following: sit down with your child (and they are just children still) and tell them that they are not allowed to be a member of any social networking site. Today!
Many people believe that life begins at conception and that abortion is a moral evil. Most people, however, aren't arrested for threatening to use deadly force against the clients or employees of abortion clinics. Enter Erlyndon Lo, a 27 year old law school graduate from Plano, Texas.
Lo was arrested in part based on a complaint he himself filed in a Texas court sharing his intention to stop abortions frp, taking place at a Texas clinic by using deadly force. His complaint contains the following admission of intent:
"My life is at stake. I could be MURDERED AND KILLED as early as Friday, April 2, 2010 at 12:00 p.m. NOON in Dallas, Texas ("TX") if you do not IMMEDIATELY GRANT MY REQUEST for in the very least a TEMPORARY RESTRAINING ORDER!!! … I will try to stop an abortion using oral words, and if words are not enough. I will use physical force if necessary, and if anyone tries to physically stop me, I will overcome that force, and if I must use deadly force to defend the innocent life of another human being, I will."
In his rambling complaint, Lo asserts, among other things, that using deadly force to prevent individuals working and visiting abortion clinics from operating and using theirs services saves innocent lives and is therefore a protected expression of religious freedom.   He therefore asks for a  temporary restraining order against law enforcement so that he may carry out his plan of using force at an abortion clinic without fear of force being used against him. The request was met with Lo's arrest.
keep looking »
0