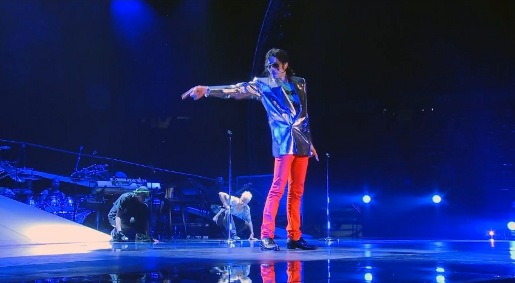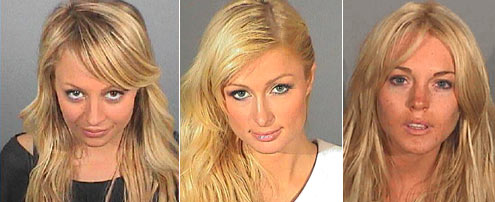 Little more than a month after Paris Hilton left jail, Nicole Richie avoids an overnight stay, and Linsey Lohan gets a day.  Here's how their crimes and sentences stack up:
Brat 
Sentence
Served
Crime
Judge
Attorney
Paris Hilton
23 days
45 days
Reckless Driving,
Probation Violoation
Michael T. Sauer
Howard Weitzman
Nicole Richie
96 hours
92 mins
Misdemeanor DUI
Steven K. Lubell
Shawn Chapman Holley
Lindsay Lohan
1 day
?
2x UI of cocaine,
2x DUI (> 0.08%),
1x reckless driving
Blair Berk
H. Chester Horn Jr.
Source:USLaw.com
 Details
Nicole Richie Crime Facts
Dec. 11, 2006, drove black Mercedes-Benz sport utility the wrong way on a Burbank freeway, CHiP found her parked in the car pool lane, she admitted having smoked marijuana and taken Vicodin.
Lindsay Lohan Sentence
In addition to jail time, 10 days of community service, 30 days drug treatment program, 18 month alcohol education program, 36 months probation. Two counts of being under the influence of cocaine, no contest to two counts of driving with a blood-alcohol level above 0.08% and one count of reckless driving. Two counts of driving under the influence dropped and not charged with felony drug charges because the amount of narcotics found in her pants was less than the standard 0.5 grams.
Lindsay Lohan Crime History
First arrested by Beverly Hills police over the Memorial Day weekend after losing control of her Mercedes SL65 on Sunset Boulevard, jumping curb, crashing into some shrubs, leaving scene to visit Century City Doctors Hospital, car removed to nearby condominium complex where a small amount of cocaine was found inside. Lohan was booked on suspicion of possessing a "usable amount" of cocaine and leaving the scene of an accident, a charge that was not to pursued because she sought medical help. July 24: arrested by Santa Monica police after the mother of one of her assistants reported that she was being chased by the actress in her SUV. Cocaine was found in Lohan's pocket when she was booked into jail.
Paris Hilton Crime
In September 2006, arrested and charged with driving under the influence of alcohol with a blood alcohol content of 0.08%, the minimum at which it is illegal to drive in California. Drivers license was suspended in November 2006 and in January 2007 she pled no contest to the alcohol-related reckless driving charge, receiving punishment of 36 months' probation and fines of $1,500.
On January 15, 2007, pulled over for driving with a suspended license and signed a document acknowledging that she was not permitted to drive. On February 27, 2007 Hilton was caught driving 70 MPH in a 35 MPH zone with a suspended license and without headlights in the dark. Charged for these actions along with the failure to enroll in a court-ordered alcohol education with violating terms of her probation. On May 4, 2007 sentenced to 45 days in jail for violating probation.
We heard from the next door neighbor of our cousin's friend's best friend that a woman who was a passenger in Lindsay Lohan's former assistant's mother's car the night it was chased by the crazed actress last month, has filed suit for intentional infliction of emotional distress on account of "[being put through] one of the most frightening experiences of [her] life."
0