About Celebrity Justice
Where the Law meets Popular Culture
Reflections on legal stories in the popular press affecting celebrities, politicians, and citizens caught in the media spotlight. Written by highly skilled attornies with too few billable hours to avoid sharing their opinion on the issues at the heart of American Jurisprudence. Published by USLaw.com, one of the oldest and largest consumer oriented legal websites (operating since 1999).
Legal Commentators
Robert Bigelow is a managing partner in the law firm of Bigelow & Narra, an author, educator and frequent TV commentator on legal issues. He is a former Senior Supervising Attorney with the Legal Aid Society in New York City and has served as a faculty member of the Intensive Trial Advocacy Program at Cardozo School of Law and an adjunct professor at New York Law School. Robert earned his JD at Georgetown University Law Center and holds a BA from the University of New Mexico.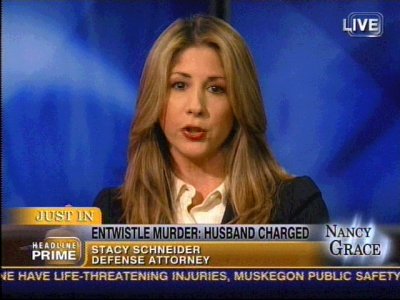 Stacy Schneider practices civil, criminal, probate, and family law in New York City. She has been a Connecticut court clerk, a television news reporter and producer in Florida, Georgia, and Washington, D.C., chair of the Connecitcut Bar Association's Media and the Law Committee, and contestant on the NBC's Apprentice. Her legal self-help book "He Had it Coming: How to Outsmart Your Husband and Win Your Divorce without a Lawyer" will be published in January, 2008. She is a graduate of Cornell Univeristy and holds a law degree from the University of Florida.
Want to write for Celebrity Justice?  Contact us. 
Send tips to uslaw (at) uslaw d0t com.

0